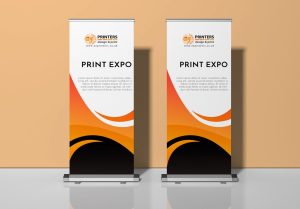 Roller or pop up banners, which can be up to two meters long, are the ideal way to convey information about your products and services. When you have a pop up roller banner stand printed, you're investing in your company's impact, from banners displayed at events and exhibitions to banners displayed in your retail store.
Why roller banners are perfect for display:
Easy to assemble: Pull the banner off its base and lock the assembly mechanism. Within seconds, it's all done!
Reusable:

Roller banners can be printed once and reused many times as they are very easy to transport. You can order new display rolls and replace the faces on your custom retractable banner as often as needed. A roll-up banner has a long lifespan. You can use the frame for a variety of occasions.

Easy to transport:

Roller banners are compact and extremely easy to carry around, they roll up on their base. It is much more convenient and easier to transport than a display board. This keeps it safe from potential damage.

If you order roller banners from ez printers

, we will provide you with a convenient bag to carry them.
Now you have seen what roller banners are and their main advantages. Roll-up displays are an effective tool for advertising your company or a specific product during a trade fair, public event or convention. During product launches, press conferences or interviews, you can also use roller banners as a backdrop.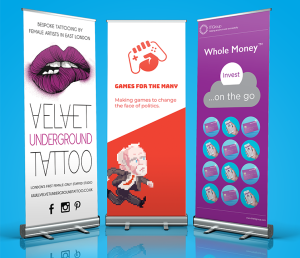 What makes a good roller banner?
Use high-resolution images:

We recommend a '

Free Artwork Check

' to ensure that the image resolution is perfect or not when

printing roller banners with ez printers

. It is very important to avoid grainy images on your roller banners.

Determine a single clear message:

Choose a single key message and focus on it. Even if you have a lot of space to print, you don't have to fill it with huge amounts of information.

Place your company logo high:

You should use this area for the image or message you want to convey since this is the most visible part of the roller banner. Also, place your website address below.
Now it's your decision whether you will choose roller banners for your next event or not.
At ez printers, we prefer to compete on quality rather than price, as cheap or low-cost roller banner stands often go unused. We offer affordable prices in London for the print quality, finish and quick turnaround we provide. You can contact us or give us a call at 020 8144 0304