ez printers from the very start has especially paid heed to the quality of its products. We pay very close attention to our products, whether they reach our level of expectations and whether they meet the standard that we long established. A product from its inception goes through rigorous stages of progression. Moreover, our quality control team also pays keen scrutiny to our finished products. The team that we have is very adept in what they do. We have experienced designers who specialize in a plethora of various genres. They produce artworks and designs that not only satisfy our customers but also meet the standard that we have long procured. You can also find us by searching nearest printing shop in Google. Among the different products like poster printing in London that we produce, posters stand out to be one of the most liked commodities in our arsenal.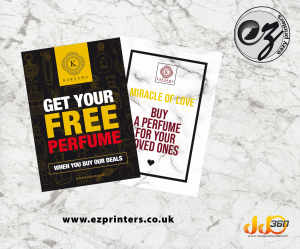 Our customers, from the inception of this company, have ordered various essence of posters. And we delivered accordingly. Our designers with their expertise have created many states of the art posters. Along with this, we have flagship equipment that prints high-quality posters. Our posters are known to be vibrant, salient and above all, impressive. As we are a customer-oriented company, we pay very close attention to the feedback we receive. And we improve accordingly. We pay precise attention to what the customer wants and tailor our products accordingly. Our company provides huge flexibility to customers like no other. We are always open to revisions and changes. Our designers work round the clock to ensure the completion of posters in due time.
Poster Printing London
Since our company is a modern one, we operate through the internet. We also operate internationally, beyond borders. So, the customer can reach out to us at any time of the day and have guaranteed service. Through our posters, you can improve brand recognition for your products. You can use them to highlight important events, discounts, and bestsellers. We print posters at various price points. Our posters start at £17. So it provides flexibility to various startups. Our reasonable prices provide new entrepreneurs with the boost they need.
Our adept customer service is well renowned and it provides ample hospitality and courteous environment. Along with this, the materials we use are of very high quality. Because, to us, quality matters the most. The raw products that we use are well scrutinized so that it may outlast the test of time. As our raw materials are of high quality, the finished product is of a higher standard as well.
It lasts long and does not fade away. Moreover, we deliver our posters as fast as possible. From design to manufacturing to delivery, there is virtually no delay as we follow a rigorous schedule. Our employees follow a rigorous schedule to meet the deadlines as fast as possible. All these are implemented to up-bring a smooth customer experience. All in all, our posters are state of the art and a high standard.