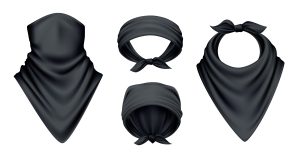 In today's fast-paced world, personalized fashion has become increasingly popular. People seek unique ways to express their individuality and stand out from the crowd. We understand the importance of personal style and offer an exceptional custom bandana printing service. We enable you to create one-of-a-kind bandanas that reflect your personality, brand, or cause. Join us as we delve into the exciting world of custom bandana printing and explore how ez printers can help you make a bold statement in fashion.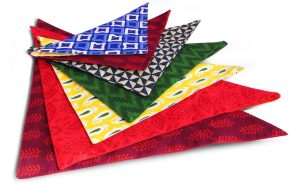 Endless Customization Options:
At ez printers, we understand that when it comes to personal style, one size certainly does not fit all. That's why our custom bandana printing service offers an array of options to cater to your unique preferences. From fabric types to design placement, we provide you with endless customization possibilities.
Fabric Types: Choose from a wide selection of fabric types to suit your needs and preferences. Whether you prefer the softness and breathability of cotton, the durability of polyester blends, or the luxurious feel of silk, we have the perfect fabric to bring your vision to life.
Dimensions: Select the dimensions that suit your style and purpose. From traditional square bandanas to versatile neck gaiters or headbands, we offer a range of sizes to ensure your bandana fits just the way you want it to.
Design Placement: Whether you desire a bold central design, an all-over pattern, or a subtle logo placement, our custom bandana printing allows you to choose where your design takes centre stage. You have full control over the placement and orientation of your artwork, ensuring it perfectly captures your intended aesthetic.
Printing Techniques: Our advanced printing technology ensures your design is beautifully reproduced on the fabric of your choice. Whether you prefer vibrant and colourful prints or a more subtle and understated look, our printing techniques deliver exceptional quality and clarity, ensuring your custom bandana stands out from the crowd.
Versatility and Functionality:
Bandanas are incredibly versatile accessories, and with custom printing from EZ Printers, they become even more powerful. Custom bandanas serve numerous purposes, making them ideal for individuals, businesses, organizations, and events. Here are just a few ways you can utilize this remarkable service:
Fashion and Style: Create fashionable bandanas that complement your unique style. Express yourself with eye-catching patterns, graphics, or even personal photographs.
Brand Promotion: Promote your business or organization by printing your logo, slogan, or contact information on bandanas. They serve as walking billboards, spreading brand awareness wherever they go.
Team Building and Events: Custom bandanas are fantastic for team building activities, sports events, or outdoor adventures. Design matching bandanas to foster a sense of unity and solidarity among participants.
Fundraising and Awareness: Raise funds for your cause or increase awareness by selling custom bandanas with a meaningful design. These versatile accessories are excellent conversation starters and can help you amplify your message.
Superior Quality and Durability:
We prioritize quality, ensuring that your custom bandanas not only look fantastic but also stand the test of time. The company utilizes state-of-the-art printing techniques and premium materials to deliver outstanding results. Whether you need a small batch or a large order, each bandana receives the same attention to detail and craftsmanship.
Our dedication to quality extends beyond printing. The bandanas are made to be durable, ensuring they withstand regular use and maintain their vibrant colours even after multiple washes. You can trust that your custom bandanas will retain their visual appeal and functionality, giving you long-lasting satisfaction.
Conclusion:
When it comes to expressing your individuality, promoting your brand, or supporting a cause, custom bandanas offer an exceptional solution. With their convenient online quotation form, endless customization options, and commitment to superior quality, ez printers empower you to unleash your creativity and bring your ideas to life. Whether you're a fashion enthusiast, an entrepreneur, or an event organizer, custom bandanas are a versatile accessory that captivates attention and makes a lasting impression. Take advantage of our services today and embrace the power of custom bandana printing.