No doubt business cards are significant for businessmen and company officials. A business card creates a first impression on readers' mind and also it will talk on behalf of your personality. You might know that eye-catching business cards London will play a significant role in increasing the brand value of your business and the employees. Every employee should hold their premium business cards so that they can show it to their clients and acquaintances. And it will work as proof of identity.
1. Creates Great Impressions
You know that the first impression always gives us some unique feeling. If your prospect of premium business cards is just wow you can easily assume that you will get the attention of your desired audiences or customers. No doubt your embossed business cards will allow your targeted customers to call you personally to talk about further services. If your business cards are eye-catching, the customer or client will keep your service in his mind and will notify you soon.
2. Effective Marketing Tool
I know that digital marketing is going so fast and helping businesses to go viral. I am not ignoring the benefits of using digital marketing but the business card will allow you to get your local customers easily. If you check out the standard business cards produced by EZ printers you can see what features they are offering. The uniqueness of standard business cards will help you to feel the subtle touch.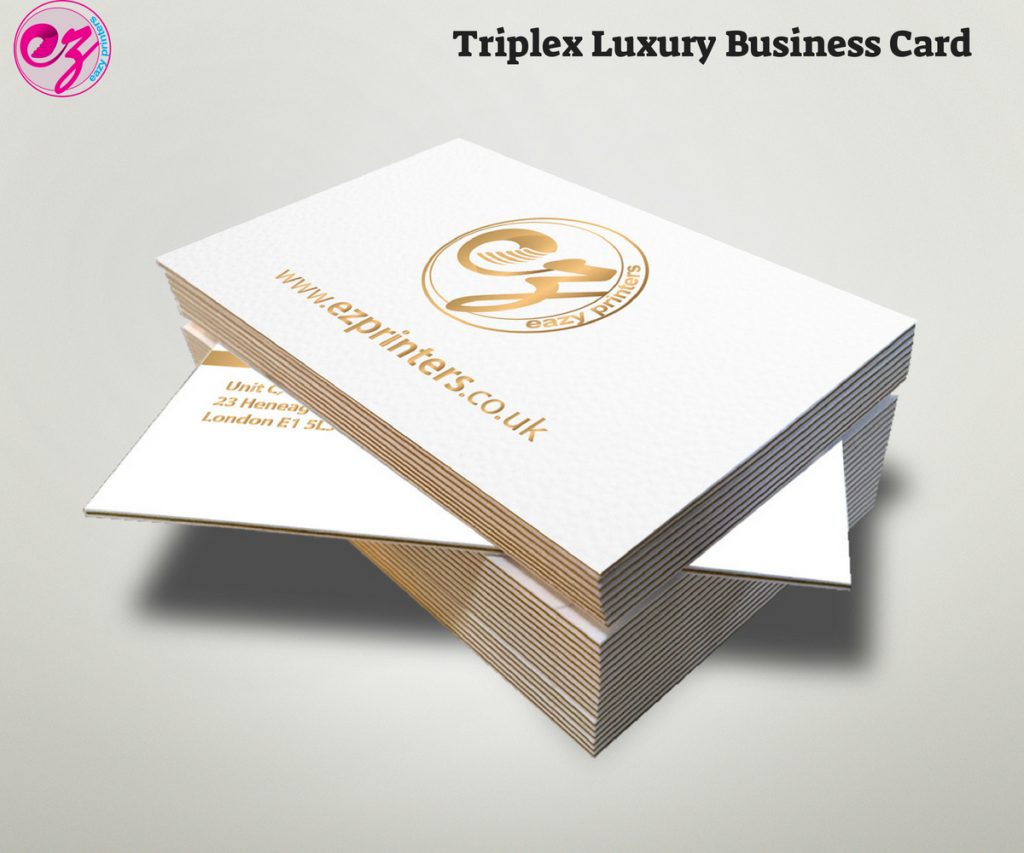 3. Premium Business Cards are Affordable
I know the budget is one of the best parts of our marketing. Before we do any type of marketing we just look after the budget. Even every small and large companies are promoting their services and products using marketing campaigns. And after reading the 1st paragraph of the article you might have seen that there are huge benefits of using cheap business cards in London. One of the best parts of business cards is that these are affordable. If you look at the uncoated business cards produced by EZ printers you can see the beautiful designs and the materials used to make the business cards London. Uncoated Business cards are made with 350gsm uncoated.
4. You will Get Free Artwork Check and Free Delivery
EZ printers are offering different types of business card printing services at an affordable price. And the most exciting part of it is you will get free artwork check and free delivery. You have to just upload your design or you can see samples to choose your design.
5. Business Card Printing Offers Versatility
Whether the business is small or large, you can make your business visible to a lot of people. By using a business card you can easily promote your services. For this, you have to add your business information to your business card printing near me. Make sure you have added the necessary information in your business cards so that people can easily get in touch with you.
Get Eye-Catching Business Cards from EZ Printers
Standard Business Card Offers
EZ Printers are offering eye-catching business card printing in London. You can have a look at standard business cards which is made with 450gsm silk and you can get both side printing. You can also get one side printing if you want.
Duplex Business Card London
Duplex Business Cards are made with 600gsm and 650gsm materials. You can also get both side printing can order containing black, blue, pink and red colors. Free artwork check and free delivery are available.
Uncoated Business Cards
Uncoated Business cards are so famous among the people who bought it. You will get these business cards made with 350gsm uncoated. Both Side Printing is also available.
Triplex Business Cards
Triplex Business cards are high-quality cards that will help you to grab the attention of your targeted customers.